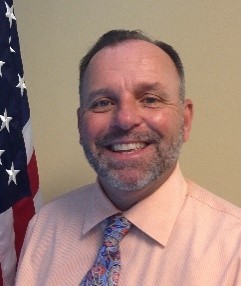 Part of AMSG's founding employee team, Rick Nowak first joined the company in 2009 as a Senior Program Analyst, left in 2011, and returned in 2016 as AMSG's Director of Operations and Personnel. Sort of a jack of all trades, Nowak has his hands in managing and overseeing several functions at AMSG, from Human Resources to Information Technology. And while he's one of AMSG's greatest assets and is great at what he does, it's his hand in golf that adds more joy and fulfillment to his life.
A late bloomer, Nowak was always intrigued with the game and started playing at the age of 14. But since his family didn't have the means and he was busy with other extracurricular activities, including baseball, basketball, and cross-country, it wasn't until one summer when he took a job at his local nine-hole golf course that he began to take the game seriously. He spent the summer teaching himself to play and learn the game. And although he still didn't have the means, he visited the driving range when he could to work on his swing.
It wasn't until several careers later and a 28-year career in the United States Marine Corps that he began competing. Over the course of 20 years, he has participated in numerous charitable tournaments in California, Hawaii, Virginia, and even Okinawa, Japan, where, during a four-person scramble, shot a 47 on a par-71 course to win the tournament.
Although "golf is an individual sport, which means you can only control what you do on the course," he says spending four to five hours with someone and getting to know that person through "a shared love for the game" brings him joy. He enjoys being a part of teams to include competing with his Marine Helicopter Squadron One (HMX-1) Team. And while he recently joined the North Carolina Golf Association and will begin a new chapter as a single golfer in the Carolinas, he will continue competing with his team in as many charitable tournaments as he can. "After all," he says, "I'm a retired Marine. Everything is a competition!"
When asked what he enjoys most about golf he says, "That's a hard question, because a bad day on the golf course is so much better than a good day doing many other things." On weekends, he lends his skills and knowledge to First Tee students ages 11-13 for friendly two-person scrambles. "That is one of the biggest thrills," he says. "Seeing the smile on their faces when we go out to compete against other teams. I really like to teach the game to young people. When you are with them, every moment is a chance for them to learn."
He taught and passed on his knowledge to his youngest daughter, who, during her senior year of high school, ended up ranking fourth in the state of Virginia and went on to become a Professional Golfers' Association Professional. "Now the teacher has become the student," Nowak says with a laugh.
"Golf is so much more than a hobby. It becomes a way of life. You go through your day thinking about your swing, your last round, your next round, and what you can do to better your game," says Nowak. "Golf is an extremely difficult game that challenges you more mentally than physically. Golfers are constantly competing against themselves to not only get better, but to be more mentally strong on the course."
When asked what's next, he emphatically answers, "Practice, practice, practice!" And when asked what tips he'd give to beginner golfers his advice is quite practical. "Golf is not a game of perfection. Beginner golfers should start out working on their short game with short swings and work their way up to the long game." He goes on to explain, "Once you've achieved the ability to play on a course, practice, practice, then practice some more on your short game. You can't put the ball in the hole with the driver."
With the impressive resume Nowak has amassed, being self-taught, helping to lead his daughter in achieving professional golfer status, and competing (and winning) in tournaments around the world, his advice is worth noting. It's also worth noting the semi-professional golfing career he's built outside of his 9-5. It's certainly an activity that's added more depth and joy to Nowak's life. "Golf is a game you can play as long as you are physically able," he says. "I've had the privilege of playing with folks that are well into their 90s who still love the game as much as I do." Let's all take notes.
Written by: Juania Owens, Investment Analyst Lead