AMSG Employees' Summer Memories
We asked our employees to share their favorite July 4th memory or their favorite summer memory from any year of life: why it was so special and what was the most vivid memory. Please enjoy our top 10 entries below. 
My Memories of 4th of July                           
By Andréa Smith
My earliest memories of 4th of July were watching fireworks on a beach, lakeside with my Mom, Dad, and my two younger brothers.  The fireworks were beautiful and magical but at the same time a little scary from the sound of the loud booms that echoed around the lake. I can still picture in my mind the glow of the red firetrucks in the distance against the dark night.
When my own children were young, neighbors often gathered for a picnic and then the families on my block would parade together to the city park to find a good spot to watch the fireworks. Exhausted from a day of excitement, food, and fun, we would make our way slowly back home carrying tired little ones or pulling them along in little red wagons.
I have many other memorable 4th of July memories that involve sudden rainstorms. Standing under a tent in pouring rain shoulder to shoulder with my neighbors. Peering out and wondering why am I standing here under a tent in a rainstorm, when I can see my own house a stone's throw across the alley? Well, it was fun, and we were all together laughing!
But by far the most important 4th of July of my life was the Summer of 1985 on the Mall in Washington D.C. I was working at the Smithsonian Festival of American Folk Life and I was working in a Fresh Squeezed Lemonade Stand! I had overheard someone recruiting a co-worker for this job who wasn't interested, and I spoke up and said, "I would be interested!"  My current summer job at a department store was rather dull unpacking clothes and putting them on hangers. This sounded more exciting!
The job was for two weeks and would pay $50.00 a day. It was the last week in June until the early part of July. The days were sunny and hot, and I couldn't even see the end of the lines of people waiting to buy a cup of lemonade!  Then one day it rained and very few people came to the festival that day. They only opened a few stands, and I was moved to an orange juice stand that day. I met my new co-worker for the day. His name was Tom Smith. Without any customers we had nothing to do that day but chat!
He was from Phoenix, Arizona and had traveled back east that summer to visit his best friend from grade school in New York State. Tom's family had moved to Phoenix from New York when he was 10 years old. His friend, Dave would be working at the festival in Washington D.C. for two weeks while Tom was here and was able to get Tom a position too!
On the 4th of July we were both assigned to the same stand again. Since the staff had to wait for what seemed like forever to leave that night due to the crowds leaving the Mall, we had the opportunity to talk again. After the festival weeks were over, we exchanged phone numbers. I never expected him to call me since it would cost way too much money in those days to make long distance phone calls! But he did call me occasionally. And it sounds so ANCIENT by today's standards, but we wrote letters to each other for one year. At age 22, Tom decided he should just move to Maryland. Two years later we would get married and two years after that we would start a family. We would have three children: Maria, Robert, and Patrick.
Fast forward through good times and bad, sickness and health, the disease of addiction would take a stronghold of Tom. Our toddler sons and our middle school daughter would grow up without their dad living with us anymore. Yet despite his own struggles, their dad would advocate for others needing recovery to get the help they needed if they could, and he encouraged them to be thankful for the people in their lives who were able to take care of the needs of their children if they were not able to.
Sadly, my three children and I tragically lost their Dad to the opioid overdose epidemic on January 25, 2022.  Last week on 4th of July, I looked up at the Fireworks and I imagined Tom looking down from the other side and watching over our family, including our 9-month-old, baby granddaughter, that he was only able to meet one time. He was so excited to be a grandfather! We will always miss him, but I know he wants us to be happy and always have Happy 4th of Julys.
In Memory of Thomas Edward Smith
April 12, 1964- January 25, 2022
​Remembering the Fourth of July
By: Barb Palmer
From age 6 to 13, I had the joy of living in Farmington, Michigan in a little subdivision called Briar Hill. It was a tight, friendly neighborhood where pretty much everyone knew everyone. This was due in no small part to the community's celebration of July 4th. As a child, that holiday was a close runner up to Christmas in my book and that is saying a lot!
Every year, the entire community would congregate on the corner of my street, at the Nauman's house. George Nauman, dressed as Uncle Sam, would greet the crowd, and lead us in the Pledge of Allegiance and the national anthem. Then all the kids would be assembled into the big Bike Parade. We all showed up with bicycles, tricycles, and strollers decorated to the max…crepe paper woven into the spokes of our wheels, flags, banners, you name it. One year I decorated my favorite baby doll in a sheet and a crown, fixed a carboard torch in her hand, and mounted her on my handlebars as, you guessed it! Lady Liberty. (I think I won the prize that year even though Katy, the-baby-doll-turned-Statue, refused to stay standing for the entire loop around the subdivision and her sheet got tangled up in my bike chains bringing my participation to an abrupt halt.)
The parade always ended at the community Pump House. This big empty lot in the middle of the subdivision became the gathering place for an all-day-and-most-of-the-night community picnic. Canopies were constructed over tons of folding chairs and tables, grills were set up, dry ice-filled buckets were loaded with ice cream sundae cups, coolers of soft drinks appeared in strategic locations and people sprawled out all over the place. Note: There might have been different "refreshments" for the grown-ups, but I don't recall because it was an unwritten rule of the day that kids paid no attention to adults on the Fourth and vice versa. This was a kid's day of complete freedom from adult supervision! We had a general idea where we could find our parents if needed but for most of the day we wandered around with other kids and did whatever kids do on hot summer days.
With the parade behind us, everyone would line up for their allotment of "tickets."  I don't recall paying for anything, I just remember the excitement of having a long string of tickets all my own, to spend as I pleased, without supervision, all day long!  These raffle type tickets bought everything– hot dogs, chips, soft drinks, ice cream and even paid for entry into The Games. I loved all the games because I always won prizes…in retrospect I am pretty sure everyone always won prizes, but I really racked 'em up.  I filled my bike basket with things only the old timers might remember—Chinese handcuffs, edible wax lips, candy cigarettes (I kid you not!), cracker jacks, slinkies, sparklers, and boxes of pellets you lit with a match and watched as they "grew" into little gray snakes, leaving nice burn marks on the sidewalk.
We played and ate and rode bikes until sundown and then the music cranked up and people sang and danced while kids ran around with sparklers burning our fingers (and our friends!)  and occasionally stepping on a hot wire tossed in the grass…great fun, as you can imagine.
Finally came the fireworks extravaganza! We had our very own neighborhood show under beautiful starry skies. In all the years I was there I don't believe it ever rained on the Fourth.  The celebrations always ended with music under the stars and exploding lights filling the sky. Clean up would be a neighborhood event the next day but on the Fourth everyone walked or rode bikes home with parents in tow. I still feel so blessed to have been in that place at that time… so many wonderful experiences.
Thanks for prompting me to pull these vivid memories up and enjoy them again!
Best Summertime Memory
By: Jean Goff
When I think back on my 49 years of life and try to remember a favorite memory, so many come to mind. Was it the summers I spent in Korea, getting to spend time with family that I rarely had a chance to see? Or was it the weeks at the various beaches with my parents and our friends. No, although those were wonderful memories, the ones dearer to me are the ones I spent with my husband and children.
As I'm getting older, I'm realizing that many memories have faded. The ones that I remember are usually the ones that we have photos of. I am so sad that this generation and future generations will not have tangible photos and photo albums that were so common when I was growing up. But I am so glad to have the ones I do.
There is one 4th of July that I will never forget. Our kids were around 8 and 10. Now, if you have children, you know that this is a perfect age. I really wish they could've stayed those ages forever. We were living in Ashburn, Virginia, just outside Washington, DC. I had lived in the DC area my whole life and had seen the fireworks in the city, but this was the first time we had ever gone down as a family. Just the expression on their faces made all the headaches worthwhile.
To get a good "area," you have to park away from the city and take the Metro downtown. And even though the fireworks aren't until late at night, you must start this process by early afternoon and plan on eating dinner down there. One of the fun parts was that we were going with three other families, all with children, so you can imagine what a huge ordeal it is to get over 10 kids onto the subway safely.
But I said fun, so let's get to that. We made it down there with only a few tantrums, but the kids were just fine. LOL. It was very hot, as it usually is during the summer, but we all brought umbrellas and chairs to keep ourselves a little cooler. At about 5 pm, it started drizzling. We had our umbrellas, so we were fine (or so we thought). A drizzle turned into a downpour. By the time we made it to a shelter, we were pretty much drenched.
Luckily, we brought all our stuff with us as we ran down the street. We made it to a parking garage, and apparently, many other people had the same idea. So instead of setting up a picnic table out on the lawn, we decided that we could set up in the garage and have our dinner there. It turned out great! Everyone chipped in, and we had more than enough food. Even with all the other people in there, it was nice. It kind of felt like a community of strangers in the same situation we were in. By the time we were finished with our dinner, the rain had stopped, and we were able to go back to the lawn to set up our area again.
If you have never been down to the Capitol to see the fireworks, you do NOT know what you are missing. It was the best show we had ever seen. Our kids sat on our laps, and we all watched together with all our friends among us. Seriously though, the lightshow was amazing! The best part was that the kids had a blast, and my husband and I enjoyed making this memory for them.
We still look back at pictures of that time and enjoy reliving the memories, but I don't think we will ever forget that one summer 4th of July in front of the Capitol. Of course, we have had many other summers and 4th of July's worth remembering, but this was one I had to share.
Summertime Memories
By: Tangela Darensburg-Williams
For many years the 4th of July was something that my family looked forward to. Every year my father, Alvin R. Williams III, would travel to Phantom Fireworks to get amazing fireworks to light up the night sky. We would all gather at my Great Uncle and Great Aunt's house in Southeast Washington DC. Their house set on the corner of C St. and Burbank St with a big backyard. We would eat everything from burnt hotdogs to southern potato salad. The highlight was my Daddy's BBQ ribs that had been marinated overnight in his famous dry rub. Also, my Auntie's famous baked Mac and Cheese browned to perfection.
Daddy and the grown-ups would play cards and talk trash. The kids would play water games. My Dad would always have a Super Soaker to catch us as we ran back and forth screaming and laughing. Night fall would finally hit, and it was time. Neighbors would come from all directions to watch as Daddy lit up the sky. He always started with the small Sparklers and end with "THE BIG BABY." He laughed as he lit each one.
My last 4th of July with Daddy and the entire family I was 26. Even though I was an adult, I still felt like a child at heart. The crowd of neighbors coming to see Daddy's fireworks show had grown. He had done this since the 80s at least.
Unfortunately, my father passed away November of that year. The following year, 2008, we tried to recreate "Big Al's Fireworks Show." The neighbors came down to watch but it was not the same. Daddy is buried at Cheltenham and every 4th I go to see him.
My 2021 Summer Memory
By: Ahmad Ibrahimi
How my life changed in one day:
Before August 15, my life was normal. I was enjoying my life in Afghanistan even if I didn't know about how much I loved my country, and we didn't know about value of our independence.
However, everything changed on August 15, 2021 and for me it was the blackest day of my life because my family lost everything they worked for like our houses, cars, money, friends, and family. The most important things we lost though was our freedom, homeland, and our flag.
On that day, the doors of our homes were closed. All day and night I thought what if the Taliban finds me and how will they treat me? I was scared and depressed about the next day and what's going to happen to me, so I escaped for three days in shelters. After that, my brother called me and sent some documents for my evacuation from Afghanistan to the United States. I left the shelter and went straight to the airport. It was a long journey to come to the United States. It was also the best day of my life after the blackest day of my life. I felt free to live and now I know that my life is not in danger. I can live freely, and I can do anything that my heart wants. I can fly and smell the independence because I know about value of life with independence and without independence. I'm enjoying every second of my life and I try to forget about my past. I try to live in the present and leave my future open. I just want to enjoy the present because no one knows about the future. Now I feel stronger because AMSG is giving me that chance to support Operation Allies Welcome for our Afghan guests.
This job means a lot for me because I know why the Afghan people are  here, how much help they need and what feelings they have. And I can help them by sharing my experiences with them. That's my goal for every day.
I hope one day we celebrate Independence Day in Afghanistan so that I can give back to my country and share my  life story with everyone.
Summertime Memories
By: Sandra Magura
Back in the early 2000's I was working for the Wounded Warrior Project raising money for injured soldiers doing bicycle rides cross country with amputees from Walter Reed. That particular year we had two disabled veterans (Heath[PH1]  Calhoun, double leg amputee and Ryan Kelley, single leg amputee), Chris Carney our volunteer rider, and Tek who would drive the support vehicle and help out on the road. I joined various rides from 2003 – 2007 to help with benefits as well as logistics when others were joining those stretches. I was on the ride from Colorado to Kansas when this particular Fourth of July memory took place:
We tended to take smaller roads where the traffic was less to avoid the dangers of congestion of cars and our precious riders. We arrived one late afternoon into a small town in the middle of Kansas. We had found a small hotel to rest for the night across the street from a VFW. It just so happened to be the Fourth of July. The entire town was on the lawn saluting the flag and raising it for their annual BBQ celebration. They had seen us unloading and saw the U-Haul van we drove with our small advertisement of what we were doing. A few people traveled across the road to talk with us and ask us what we were doing. We  told them, and they then graciously invited us to their celebration.
We had been on the road all day and were tired…but most of all hungry and homemade food sounded right up our alley. So, we ventured over and celebrated with them. We were greeted with hugs like we had known them forever. We were seated  and served an amazing home cooked meal. We stood on the lawn with them and sang songs. They even passed around a basket for donations. Most importantly our Veterans were able to speak with their fellow Veterans openly and honestly and bond in a way I hadn't seen in a while. There was sweet tea and lemonade (no beer or liquor). There were no fireworks. It was the 5 of us and no other members of our friends and family. Yet, this particular BBQ felt like the ONLY way to celebrate the Fourth of July. It was small town America at its finest opening its doors to 5 strangers and treating us like family. No questions asked.
This memory stands out in my mind every year. Reminding me of that small town America. Reminding me of our freedoms both big and small. Reminding me of how gracious and giving the people of our beautiful country can be.
Summer Memories
By: Zuhal Arif (AMSG Employee, Hamayoon Arif's daughter)
I have many great memories from the summertime but none of them will ever have as much value as the ones that I made with my dad these past few summers.
My dad worked as a culture advisor/linguist with the U.S military and he was rarely home with us. For most of my childhood, I only saw him for little bits at a time. He wouldn't be at home for most of me and my siblings' birthdays or any other events. It was extremely difficult for my family and I to have to do most things over the phone so far away from each other. My dad tried his best through it all though. He would remember my birthday and send me gifts and other things from wherever he was. There was never something I didn't have because he would always buy me what I needed. It wasn't the same as having him home, though. I was still immensely grateful for everything he did for me while he was overseas.
However, there was nothing that I wanted more than to have him home with me and family. That was when my father was offered a job near where we lived. He decided to come home and work while also being with my family and me. Around that time, COVID hit and everything got shut down which caused my father's job process to slow down and later stopped. Since things were going so slow, my dad was at home with us and was still looking for a job. I was beyond happy that I could finally spend more time with him. Being able to see him every day became one of
my most favorite moments every summer. I thank God every day because I get to see my dad on a daily basis. As I spent more time with my dad, I made more memories with him. All of those memories are my favorites every year. I am very lucky to have my dad with me every summer. I'm glad that we can make up for lost time and continue to make amazing memories.
Summer Memory
Landyn Bostick (AMSG Employee, Ashley Walker's 9 year old son)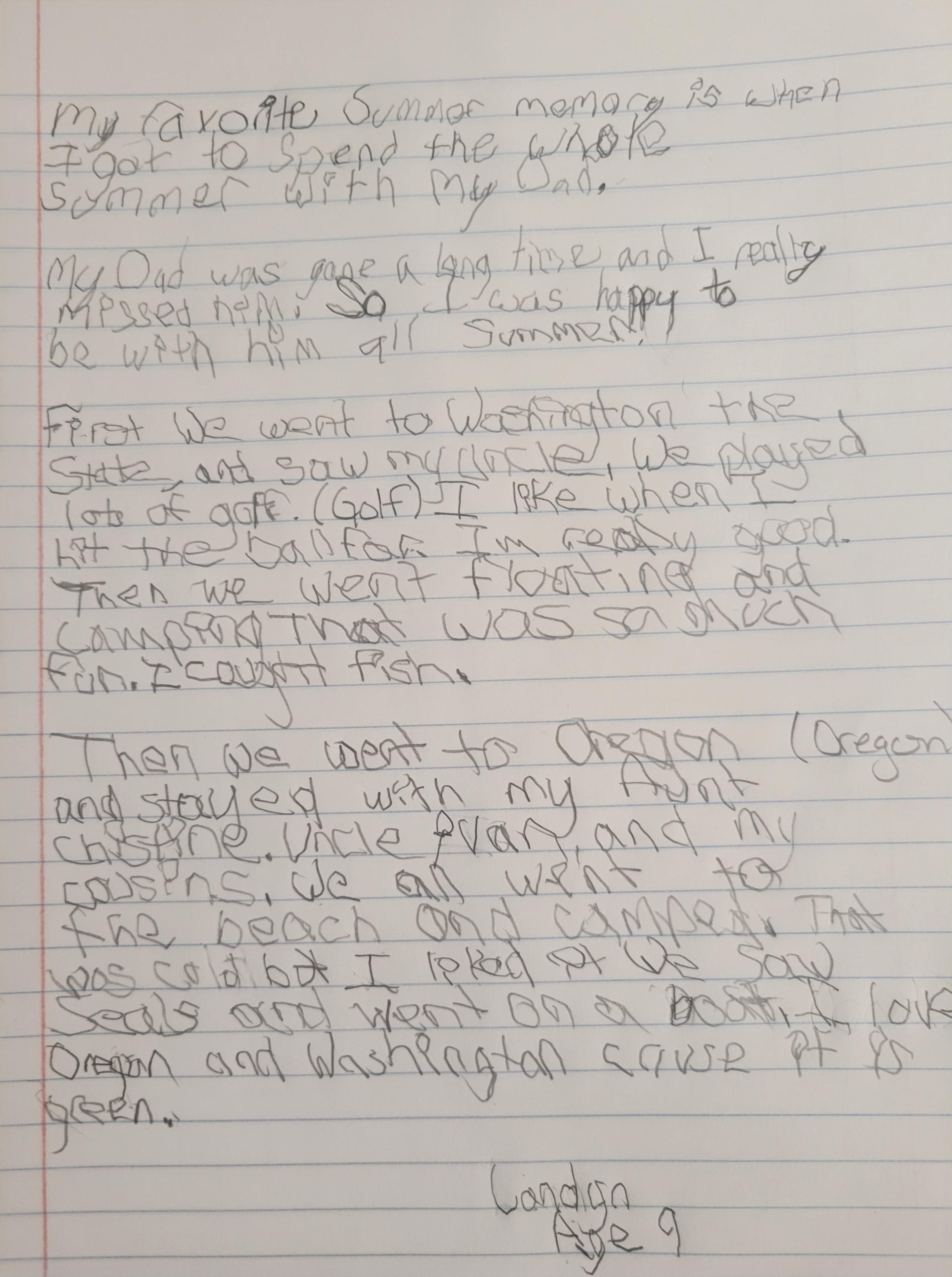 My favorite summer memory is when I got to spend the whole summer with my dad.
My dad was gone a long time and I really missed him. So I was happy to be with him all summer.
First we went to Washington the state, and saw my uncle. We played lots of golf. I like when I hit the ball far. I am really good. Then we went floating and camping. That was so much fun. I caught fish.
Then we went to Oregon. And stayed with my aunt Christine and uncle Ivan and my cousins. We all went to the beach and camped. That was cold but I like it. We saw seals and went on a boat. I love Oregon and Washington cause it is green.
Landyn
Age 9
Summer Memory
By: John Hinson
As a Marine Brat, Independence Day has always been special and in some ways revered. I remember as a child traveling in the back of a red convertible Volkswagen Bug with a basset hound sitting upright as a human being between my younger brother and me (the looks we would get – that was humorous), as we gazed into the heavens watching the National Capital fireworks display while stuck in traffic. As soon as the fireworks began, all traffic stopped. People exited their vehicles and briefly celebrated for 20 minutes before returning to what we now affectionately call the "steel glacier" moving along the I-95 corridor. There are memories of anchoring off Hains Point in the Potomac River basin on our small sailboat, watching and listening to aircraft on a UHF radio as the planes would land and take off from what is now Ronald Reagan Washington National Airport before we would watch from our boat the firework show igniting the National Mall with brilliant colors of light. I remember my first Independence Day while overseas as a child at Camp Foster; the Okinawans loved our celebration. I could drone on about many celebrations, like the one I experienced when stationed in South Korea where I met a very distant cousin whose last name is Hinson; we celebrated hard like long lost brothers even though we couldn't figure out where our family trees merged. That didn't matter as we attended to our dehydrated headaches the next day. Fast forward to my wedding on a July 3rd, whereby my Bride and I celebrated Independence Day watching fireworks from the concierge level of the hotel overlooking the waterside district of downtown Norfolk at the Southern Branch of the Elizabeth River – it felt as if you could just reach out and grab the fireworks as they exploded before our eyes. Then observing my own children wonder with amazement as they watch fireworks today and roll their eyes as they hear another historical anecdote about our Nation ("Dad, just light the firecracker!") And even more current, this past 246th Independence Day in Edenton, NC, celebrating with my family, my parents and my brother and his wife – a public reading of the Declaration of Independence and a historical background presentation on Joseph Hewes, an American Founding Father and Edentonian, whose final vote ratified the Declaration of Independence (and of course fireworks later that evening).
Those may be a few of just some memorable Independence Day celebrations to reflect upon. But right now, I'm reflecting upon a few summer days experienced in my childhood. After playing baseball first thing in the cool morning air, my friends retreated to their homes as the temperatures rose. My Mother yelled at us kids to get out of the house. It was August. And it was hot. Stifling at times. I was bored. There was just pure boredom as thick as the sweltering hot August afternoon. I think I could use one of those days, or even two right now, of those stifling hot, boring, August days. At the time, I didn't realize how wonderful they truly were. I sure do now.
Summer Memory
By: Wesley Thomas 
My favorite childhood summer memories revolve around time spent with my mother at Straus Park in Brevard, North Carolina. Straus Park was a woodland recreational area for the employees of Ecusta paper mill and their families. As the largest manufacturing paper mill in Western North Carolina, Ecusta employed over two thousand Appalachians who had previously relied upon agriculture to make a living. Three generations of my family at some point worked directly for Ecusta – to say the least, it was a family business.
While the entire area is naturally beautiful, Straus Park is the crown jewel property of Ecusta, located upstream and bordering the Pisgah national forest. Straus' 300 acres of pristine woodlands offers the perfect setting for a young boy to adventure, hike, swim, and cast a fishing line during the warmer summer months. The lake at the center of Straus Park, is surrounded by a walking trail and at its center stood a memorial to WWII service members. "Old Glory", was flanked on the left side by a 240 mm howitzer M1, along with plaques displaying the names of Ecusta employees who served with a special section reserved for the names who paid freedoms ultimate price. As a young boy I loved to climb on the artillery piece, open and close the breech and pretend that I was in the midst of battle. While it would take years to fully understand the magnitude of the memorial, I feel certain that it played a significant part in forming a call to service as a career artilleryman!
The trail continued around the lake to a swimming area, which had a small store, lake house for changing and walking dock staffed by the lucky few high school kids employed as lifeguards. Mom always packed our picnic for a day at Straus, but on rare occasions and when I was on my best behavior, she would find an extra .50 cents so we could enjoy an orange-cream push up pop! While mom would enjoy some time reading at the picnic table, I would make a bee line for the swimming area. The water was always so cold as it was fed by the mountain streams, but when you are young, cold temperatures are nowhere near a concern for not jumping in! Ecusta employees' kids from Transylvania county, Henderson county and Buncombe county would flock to Straus Park during the summer time. I would venture to say that this was the place that hundreds of youngsters learned how to swim, experienced puppy love for the first time, and shared their first kiss….with a "girl". This was the place that memories with family and friends would be made for a lifetime!
Fast forward twenty-two years later, and nearly eleven years into a military career, I return from Germany for a two week leave to visit mom. We reminisce about time growing up and how significant Straus Park was to both of our early childhood years. Come to find out Mom
had also learned how to swim at Straus and…..shared her first kiss with a "boy" there too! But the park's magical powers didn't stop there. On the same trip, I met a beautiful woman, who is now my wife! Kim lived in Charlotte NC and was also home visiting her family for a long weekend. Having never met before and being from separate counties, Kim, Transylvania and me, Henderson, we shared an instant connection after discovering that both our families spent many summer days at Straus Park! Kim being four years my senior, was one of the lucky highschoolers who was employed as a lifeguard at Straus. She distinctly remembers pushing a little snot nosed boy into the lake after he tried to kiss her in exchange for an orange push up pop! Was it me or one of the other hundreds of boys that would have been chasing after the pretty lifeguard? We will probably never know, but one thing is for sure! Straus Park was magical, and I got the dream girl to prove it!