In September 2023, AMSG's President and CEO Jim O'Farrell hosted AMSG's second annual leadership retreat in Annapolis, Maryland. This year, members of AMSG's leadership team traveled from Alabama, Maryland, Oklahoma, Texas, Virginia, Nevada, New Mexico, New York, North Carolina, and Washington, D.C. Our mission: to collaborate, renew our shared purpose at AMSG, and sharpen our leadership skills.
From the United States Marine Corps to the U.S. Department of Homeland Security, AMSG provides defense capabilities analysis, program and project management support, marketing and communications services, acquisition, and financial management support to seven agencies across the Federal Government.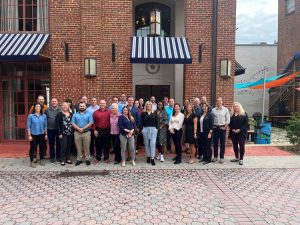 To provide these services to our Federal Government partners and help them successfully implement critical missions that impact the world, Jim invests heavily in our leaders and employees by providing developmental and training opportunities like the leadership retreat. And what better location to host this year's retreat than in the place where Jim's personal journey and professional career began!
Born and raised in Annapolis, Jim is also a second-generation United States Naval Academy graduate. "Being in Annapolis this year felt like a full circle moment," says Jim. "I chose Annapolis because I knew I wanted to be challenged in college, serve our country, and be part of something bigger than myself. And growing up in Annapolis, the Academy was a place held in high regard by the locals. From the time I attended Georgetown East Elementary School in Eastport, all the way to graduating from the local public high school – Annapolis High – I was constantly impressed with the midshipmen who I saw and interacted with. As a cook at Middleton Tavern restaurant in high school, the "mids" would come into the restaurant, and I can remember how impressed I was with them."
Armed with a new corporate ethos – known as the Company's six Cs: Competence, Courage, Compassion, Character, Communication, and Community – and mission that build on AMSG's foundation of more than 15 years of military and government consulting experience, AMSG advanced to the next level this year. A level that is focused solely on reinforcing our newly defined North Star: Forging Solutions for the [Federal Government] Missions that Matter.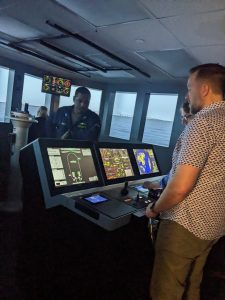 Meticulously planned, each segment of this multi-day retreat revolved around this ethos and mission. The retreat featured speeches, workshops, brainstorming sessions, an inspiring talk given by retired Rear Admiral Mike Manazir, storytelling experts from the Armed Services Arts Partnership (ASAP), Deputy Director Dr. Jeffrey R. Macris Ph.D. of the Stockade Center for Ethical Leadership, Applied Leadership Partners' Founder Blayne Smith and Director of Marketing Sarah Holzhab, and a real-life simulation led by master instructors in ship handling, seamanship, and navigation from both the U.S. and Royal Navies.
Through the ASAP storytelling workshop, AMSG leaders learned the importance of identifying and shaping personal stories for maximum impact and connection. "The storytelling workshop was an informative exercise," says AMSG's Vice President of Operations Angela Lee. "ASAP demonstrated how we can share our personal life experiences and tailor them to relate to everyday work life."
Several teammates bonded after meeting each other in person for the first time. The team aptly named "The Six Seas", collaborated and won first place during the hotel's trivia night. And in the recesses of their hotel rooms, other teammates chatted one-on-one about the future and their personal goals.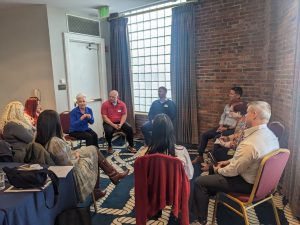 Inspiring moments were constant during the two and a half days. While sitting under a mock starry night in the Naval Academy's Planetarium learning celestial navigation, the stars aligned from the previous evening when, at dinner, retired Admiral Mike "Nasty" Manazir spoke to our group about honing in our North Star, when Naval instructors guided us through a Naval simulation used to train future sailors and Naval Officers, and when Dr. Macris and his midshipmen spoke about the leadership characteristics that make it possible for teams to achieve a common mission and purpose.
With Applied Leadership Partners, leadership topics spanned beyond the professional and into the personal while learning how to navigate difficult conversations with colleagues and managers, along with friends, family, and spouses. Further, discussions around converging and diverging lenses sparked conversations about our unique experiences that contribute to a shared vision.
"AMSG has grown to a point where we have AMSG Leaders from all points on the compass. And each of us brings with us different experiences and backgrounds. Just like our great Nation, these differences are what make AMSG such a great Company," says Jim. "My job is to equip our diverse group of leaders with the tools they need to sharpen and expand their skill set to successfully guide our teams in supporting our government partners."
While last year's retreat helped usher in a new era, this year's retreat solidified AMSG's purpose and way forward by further developing our leaders who live AMSG's ethos and are keen on accomplishing our North Star to forge solutions for the Federal Government missions that matter most.
By: Juania Owens, Investment Analyst Lead