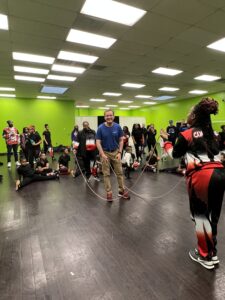 When our CEO, Jim O'Farrell, first heard about Jump DC from AMSG'er, Donae Magett, a Finance Analyst supporting the Defense Health Agency, who helps coach Jump DC, he knew their mission was one that Team AMSG could jump into.
Donae explained, "After I joined Jump DC, I saw the amazing impact it had on all of our participants and their parents. The Jump DC organization takes a sport that our community tried to forget, and helps remind our parents and expose our youth to the fun and excitement that can be created with simply having 3 people: two turners and a jumper! As today's society of instant gratification continues, it is important to remind and encourage both youth and adults that it does not take much to have fun and create. It does however, take practice, courage and, commitment to perform and excel in whatever we chose to do!"
Jump DC is a competitive Double Dutch group, established in 2019. Sharde Perry, the organization's founder says, "We are committed to challenging our children to exude brilliance, boldness, courage, and self-determination. Jump DC created a youth sector where we teach and train young girls from the ages of 7-18 years of age the basic skills of Double Dutch, moderate to advanced tricks to perform inside the ropes, discipline and so much more, with the goal to compete and win at local and national Double Dutch events."
When AMSG learned that some of the families of children involved in Jump DC were struggling to cover the costs involved, AMSG was happy to donate to the organization to buy shoes, uniforms, and help support transportation for the group to attend a National Double Dutch competition in Chicago. Our team was also invited to a special showcase to see the participants show off their talents!
At the showcase, Jim was invited to join in! "You have to go first. You're the leader," an 8-year-old jumper told him. "I heard myself saying to myself, 'Never ask someone else to do something you wouldn't do yourself.' Surrounded by several direct reports from my company, and dozens of young children, and fresh from an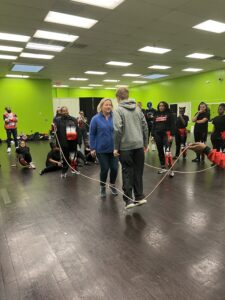 inspiring CEOcircle fly-in to Dallas, it was time to JUMP IN!" said Jim. "The pain associated with being in my 50s and jumping up and down while dodging two fast-moving ropes took a few days to recover from, but the sheer joy of the kids' faces and applause from the parents and other spectators as I finished my leader's turn-in-the-ropes will last for as long as I live."
We're also proud to announce that in the Chicago competition, the team placed first in immediate freestyle and novice doubles speed 3/4th, second in advance doubles 7/8th, and third place in beginner's freestyle and advance singles 7/8th! Great job, Jump DC!
In keeping with our core values of competence, courage, and compassion, we are honored to be able to support America's next generation of leaders, and we are proud to assist in some small way to help the Jump DC Double Dutch program grow and flourish.
By: Sheila Rupp, AMSGazette Contributor and Editor