"If you served our country and you want to pursue the American dream, we want to help make that possible … at the end of the day you need two things: the right network and the right capital."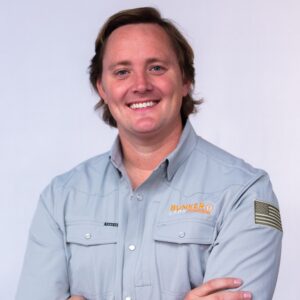 That's Blake Hogan, CEO of Bunker Labs. Through community, courses, and programming, Bunker Labs' nonprofit organization has paved the way for hundreds of our Veteran and military-spouse CEOs and founders to start and grow successful companies. Founded nearly a decade ago with just one elite program, its signature CEOcircle, Bunker has since expanded to include a partnership with JPMorgan Chase & Co. and an Ambassador Program, a Breaking Barriers in Entrepreneurship Program, and a Veterans in Residence Program. Their purpose? To establish a deeply rooted and supportive ecosystem around their community of entrepreneurs.
Hogan was working on a startup of his own when Bunker's former CEO Todd Connor tapped him to start the organization that would "launch the next greatest generation of great entrepreneurs" and he hasn't looked back since. He joined In Conversation with AMSG to discuss his journey in helping to launch and grow Bunker Labs, why this work means so much to  him, and the future of Bunker.
Next month, in part two of this interview, AMSG's CEO & President Jim O'Farrell discusses his participation in Bunkers' CEOcircle and the Veterans in Residence Program showcase and the impact this experience with Bunker has had on him.
This interview has been lightly edited for length and clarity.          
 AMSG: Tell me about Bunker Labs – what was the reason behind starting this organization?
Blake Hogan: Bunker Labs was founded in 2014 by Navy Veteran Todd Connor to help military Veterans and military spouses start and grow successful companies. We were trying to solve two problems: access to connections and access to capital.
My brother and Todd's brother attended church together in Chicago. At the time, I was living in Austin, Texas, trying to start a really terrible tech company (laughs). It was a huge learning moment that ended up being a really great lesson on how to lose money and how to have bad partnerships. Anyhow, since Todd and I were both in the military, both of our brothers thought it would be great for us to connect.
Standing on my front porch in Texas, I got a phone call from Todd. He basically said, 'We're going to launch the next greatest generation of great entrepreneurs. Are you in or are you out?' And like any good Marine, I immediately said yes.
I asked zero clarifying questions. But when he said, 'Great! We're going to start a nonprofit,' I thought to myself, 'Well that's a terrible idea," and I said something like, 'I thought we were going to help people make money. I grew up poor. I don't want to be poor. I'm trying to start businesses.'
But Todd had a plan. And so, we started Bunker Labs. Austin was Bunker's second satellite chapter and it just started to proliferate around the country. By 2019 we'd hosted 200 live events with close to 20,000 people in attendance. In 2020, I took over with Todd, then facilitating our CEOcircles, so that was a full circle moment there for him. But then the whole world shut down.
AMSG: What happened once the pandemic hit and everything shut down?
BH: With the world shutting down it became apparent that the whole live event thing might not work. So, we came up with a more structured and programmatic model, and today we run four programs: the CEOcircle, Ambassador Program, Veterans in Residence, and Breaking Barriers in Entrepreneurship.
AMSG: How does each program work?
BH: Our Breaking Barriers in Entrepreneurship program supports Asian, Black, Hispanic, and female founders. It's also for companies in the earlier launch phase and is set up like eight-week sprints. It's pretty tactical, focusing on questions and issues like what business entity should I be, what grants are out there that I should apply for, what pitch competitions should I enter, etc.
Our Veterans in Residence is our largest program. It's a six-month incubator that's agnostic to industry and the participants are geographically based. Right now, we have 325 total participants in this current cohort with 27 in-person incubators around the country, and another seven that are fully virtual.
Then we have our Ambassadors. This is a 12-month fellowship program focused on ecosystem building. The objective there is if we're actually going to solve this problem around how we build better networks, then we need to train people to build networks and so, we're trying to come at this problem from both ways. We're saying let's give direct entrepreneurial cohort-based programming, and let's also invest in leaders who are in their communities.
AMSG: It's awesome that Bunker orchestrates such a vast and supportive community. How do the Ambassadors contribute to Bunker Labs' programs?
BH: Yeah, so right now, we have 89 Ambassadors who are in 40 cities across the country and who have adopted a Vets in Residence cohort. In Nashville, where I'm now based, Mock Abdelaal, a Marine working on autonomous vehicle capabilities, and Sean Patton, a former Green Beret who now has several jiu-jitsu gyms and runs a leadership consultancy, are our Nashville Ambassadors.
These guys are working to build the entrepreneurial network in their communities and they channel that effort into their local Vets in Residence. In the Marines this is called fire for effect, but the whole goal of our Ambassadors is to help bring the resources of their community, including government, higher-ed, venture capital, and the Chamber of Commerce, to the table.
In 2019, we hosted all of these events, and they were great events, but there wasn't a way to bring CEOs like Jim O'Farrell of ASMG a really clear call to action. As an example, Jim attended our Veterans in Residence Showcase, which is equivalent to Shark Tank demo day. During these showcases, our Vets in Residence may not be pitching for investment, but they're announcing their business to attendees.
For instance, Andrew Arbogast of Arbos Cheddar, who pitched at our Nashville Veterans in Residence, later went from being carried in zero stores to 300 stores, and from 300 stores to 600 stores. Jim actually attended our D.C. Veterans in Residence showcase and ended up supporting one of our Vets in Residence companies. So that's really what we're trying to do.
AMSG: How does Bunker Labs' CEOcircle work?
BH: The circle is about the companies who are already successful, but want to grow and scale. From the start, one of our goals has always been about "could we get leaders who were scaling companies together and provide some value?"
Over the years, we've run our CEOcircle in a number of different variations. But then last year, we partnered with the commercial bank JPMorgan Chase, and from that partnership, we created one of our best programs yet. Our circles are now focused on companies that produce between $1 and $5 million in revenue and then $5 million and above in revenue.
It's been incredible to have folks like Jim participate in our cohort, and leaders like Jamie Diamond and Alex Gorsky come in and speak to our cohort members without any press and it be off the record so that our CEOs can be real about what they're struggling with and what they're trying to accomplish.
Early on we adopted a saying, 'People will be what they can see,' from Joseph Kosper who helped us start the Austin Bunker chapter back in 2014. So, while it has been really great to have the Jaime Diamonds and Alex Gorskys of the world come and meet with the cohorts, it's also great to see someone who's just five years in front of you or even 10 years ahead, knowing you can break down, pinpoint, and follow the path of getting from point A to point B.
AMSG: How does Bunker select its participants for each program?
BH: Each program has its own application process. A good chunk of the application is anonymized to help remove any implicit bias into how companies are selected, and they're weighted using scores based on a number of different factors.
In the case of the CEOcircle, a representative from JPMorgan Chase advises on that selection process. But the general criteria for the CEOcircle is a Veteran and military spouse-owned company with revenue of $1-5 million, and then $5 million and up. We also consider plans for growth and whether the CEOs are going to be a good teammate. At the end of the day, it's all about the humans in the room showing up as good humans to help people.
Every cohort signs our Core Values Agreement, so they know our core values and expectations. We've all served in the military or were spouses to Veterans, so we understand an honor code and ethical codes. We don't always get it right, but we try. We're human. I believe in grace.
For our Ambassadors, other than the revenue, that application is based on similar criteria. We look at: How are you involved in the community? What are you already doing? How are you going to show up as a teammate? With our Vets in Residence, it's all about showing traction because most of the companies are pre-revenue or they're in that $0-250K band. But we're evolving and tightening that program to provide an even better experience across the board.
AMSG: I can imagine how challenging it must be as an entrepreneur starting from scratch and with zero revenue, so having a community like Bunker sounds promising.
BH: When we started Bunker we had a lot of internal debate about whether or not we wanted to have a high-tech, high-growth for-profit accelerator. But ultimately, we decided against that.
We wanted our goal to be a viable and equitable path for those who served our country. If you served our country and you want to pursue the American dream, we want to help make that possible and we want to break down the process and the barriers to demystify that and say at the end of the day you need two things: the right network and the right capital.
And then you need to figure out how to lead and operate within that. Which is the benefit of coming from a service background. Lots of us understand the foundational, intangible pieces, but there's the financial network and professional network that's missing. We see those as very solvable problems with Bunker and we wanted to help play a role in solving those two problems.
AMSG: Since you became CEO, what are some milestones you're most proud of?
BH: The fact is that we're still around to fight another day. When we went through the pandemic, we weren't sure what this was going to look like. We weren't sure if we'd be able to continue to make this happen. We still have a lot of work to do to better support and carry out our mission, and I need to be a better leader to help get it accomplished, but we're closer than we've ever been to making this organization long-term sustainable and that was really my goal.
Our programmatic model is working. Our CEOcircle has been such an incredible experience because it's shown that the goal we're after, which is economic mobility and people creating jobs and generational wealth is not only real, but that it's happening. Michael Pleasant, who's in our CEOcircle was involved in helping us launch the San Antonio Bunker in 2014. And we have 15 other CEOcircle participants who have also gotten involved in Bunker in one way or another beyond that 5- to 8-year period after they first started. So, to see them go through that entire journey and still see value in Bunker, and frankly, want to show up to support others, is amazing. If Bunker can be a 100-year-old organization, that's where that network proliferates to where we really are changing the economic landscape of this country.
AMSG: What's Bunker Labs' "secret sauce"? What keeps participants coming back?
BH: About 30% of our Vets in Residence participants reapply to go through the cohort again. I talked to Alexander De La Campa of Rainge Spring Water. I asked him why he did it again. I wish I could remember exactly what he said, but he said Bunker Labs architects the comradery that creates powerful relationships that lead to opportunity.
The bottom line, I believe our competitive advantage and what we're great at doing is creating community. We engineer the environment and that's the sticky part. What we're really after and what we're really good at is creating powerful bonds and team units where they love, trust, and respect one another. It's not because there's a big-name speaker or someone who has a really great spreadsheet, it's because somebody else cared about them and can understand the journey they're on. So, we have a lot of folks who reapply to go through the program again.
AMSG: It sounds like Bunker lives up to its mission by helping our Veteran and military-spouse CEOs grow their businesses. What's a success story that stands out to you?
BH: During an event run by a Bunker Labs' board member, I ran into the CEO of Rainge Spring Water. The event was to connect Veterans and military spouses with venture capitalists. But we started talking and he shared his story that has stuck with me. He said, 'I was basically homeless. I don't even know how I found the Bunker website. But I started taking the online courses, getting connected, and trying to figure out a way to make some money. I ended up finding and getting the rights to a mineral spring well in California. I started distributing water and now I have this growing, successful company and I can start helping others.'
It's stories like that all over the place within our community. In the Veteran space we have people who are hell bent on doing good stuff and the way they're doing it is by being entrepreneurs. We've got companies who have raised significant amounts of money and have grown into $100 million+ companies and who want to be billion-dollar unicorn companies. But we also have others who, like a woman I met who lives in Minneapolis, just wants to be able to quit her full-time job and have enough consulting clients to be able to replace her income to live the lifestyle that she wants.
That's the beauty of entrepreneurship because there's freedom in creating. And when it happens within this environment of people, they have this ethos to go out and pay that forward, whether that's creating jobs, running for office, or supporting the little league team. That's where this thing becomes real. It's stories like these, that make this all worthwhile even when it's really hard.
AMSG: How would someone get involved in helping Bunker Labs and our Veteran CEOs?
BH: Folks can visit our website and click on our communities to connect with a local cohort by industry. Also, a specific call to action to join us at our showcases will come out soon. Last year in one night, we hosted 34 live showcases across the country with over 1,500 people in attendance and over 500 entrepreneurs up on stage.
Every six months there is a large showcase the week of May 22nd and December 4th. We ask our community and our larger community of supporters to show up to these twice yearly showcases, get to know our companies, invest in them, do business with them, and then hopefully develop long-term relationships with our CEO members. But that's how people can stay involved in a low-lift way.
AMSG: What's next for Bunker Labs?
BH: We're excited we'll be in Dallas in March for our next CEOcircle, Chicago in June, and back for our showcases in May and June. I'd just say, if you believe in the American dream, go to bunkerlabs.org, donate to support what we're doing, and support and do business with companies like AMSG and others.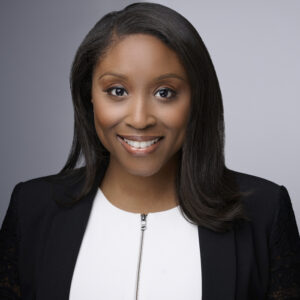 Interview By: Juania Owens, Investment Analyst Lead