End of an Era: Farewell to Doug Doerr
June marks the end of an era at Headquarters Marine Corps Combat Development & Integration (CD&I).  On 22 June, the last of the Long Riders, Mr. Doug Doerr will bid farewell after spending over 20 years providing Contract Support to the Marine Corps, specifically CD&I in the Davis Building.  In October of 2000, following his retirement after 20 years of service as a Marine Aviator, Doug became an analyst for combat identification, target identification, and friendly force tracking solutions for CD&I.  In October of 2016 Doug transitioned to become the small uncrewed aircraft system (sUAS) task analyst supporting the Aviation Command Element (ACE) Division and has served in this capacity for the past seven years.
Standing from L to R are: Col Mel DeMars, Col Dave Wassink, BGen Granny Amos, Col Peyton Dehart, LtCol Paul Gehring and Col Larry Outlaw. Kneeling are Maj Doug Doerr and Col Greg Baur.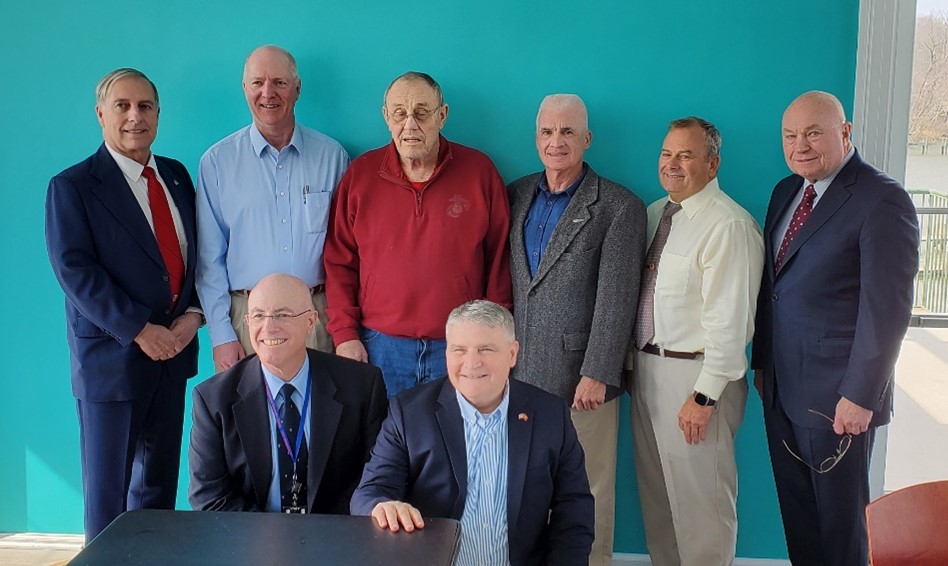 Doug is the last of the grey beard legacy of former Marines who all served together on the same 261 cruise and all served as contractors in the Davis Building. Each played instrumental roles in developing capability requirements for the warfighter ensuring an unmatched force in readiness.
Dave Wassink's departure in March of this year left Doug as the last man standing of a group of Marines who set the standards for contract support and who have left a lasting impression on the Marine Corps and those Capabilities Integration Officers (CIO) who benefitted from both their service and mentorship.  Doug, along with all of the men pictured above, made a tremendous difference with significant contributions to our warfighters.  Those of us who have been blessed to join the ranks of these giants have been provided the best possible examples to follow.  As a result, their legacy will live on.
With over 40 years of service to Country and Corps, it is bittersweet to bid farewell to Doug and Corinne Doerr.  Doug will be missed for his work ethic, kindness, and the little chocolates he hand-delivered randomly throughout the building.
An avid bike rider, Doug knows that the only way to see the sunset is to ride into it.  We wish him and Corinne happiness, warm sunsets, and smooth roads ahead.