Sometimes we need a little direction. We need someone to hold us accountable when going through the transition from military career to civilian or even when changing job titles. Whether it's business or personal, having someone on your side is always beneficial. This is what mentorship can do.
If you find yourself on the other side … the leader. The one who seeks value in helping others. The one who has skills and experience to help guide others. The one who has been through the challenges of transitions. This is what mentorship can do.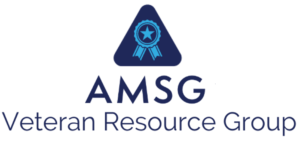 AMSG is proud of our Veterans Mentorship Program and we are excited to watch it grow! We took the time to interview one of our matches: James Carlin (JC), who is a mentor and one of AMSG's VA Project Managers, and Lisa Perry, who is a mentee in our program and a Team Lead for one of our DHA contracts. Just see below how much this program has helped the mentee in just four months!
What motivated you to apply to be a mentor in the program?       
JC: I have been a mentor to younger officers when I was on active duty in the Air Force (AF). It was a very rewarding experience. I have also been an instructor at all levels of AF Professional Military Education and at public universities. I know mentoring is different than teaching, but what is the same is a desire to see people grow and develop. That's what motivated me to get involved in the AMSG Veteran Mentorship program.
What does being a "mentor" mean to you? What interested you about applying to be one?
JC: Working with others to help them develop and grow, helping to make a difference in their lives, developing relationships to lay the foundation for future success, and increasing confidence and capability through the sharing of experiences.
What skills and experiences do you bring to the mentoring program?    
JC: I have previously been a mentor in both a military environment and in an academic one. The main skills and experience I bring to the AMSG Mentoring Program are leadership, program/project management, training and education experience, ability to effectively listen, and concern for the development of others.
How often do you meet?          
JC: We have a scheduled weekly meeting.
What motivates you to succeed as a mentor?        
JC: The biggest motivation to succeed as a mentor is to see the growth and development in others. While experience isn't the only teacher, it is a good one. Sharing experiences, both good and bad, provides an opportunity for others to learn or confirm their thinking on a variety of topics.
What have you taken away from the Veteran Mentorship Program so far?           
JC: The main take away from the AMSG Veteran Mentorship Program is that it is not a one directional program. While the focus is definitely on the mentee, it can also be a growth opportunity for the mentor. As with many areas, good communication and building trust are so important to lay a solid foundation for success.
What interested you about having a mentor and applying for the program?      
Lisa: I never found the right mentor in my military career and feel it would have made all the difference. On my second career, I jumped at the opportunity to do things right this time around.
Since starting your mentorship in January what are some things you have accomplished?         
Lisa: Well, there have been small wins from filing my taxes alone for the first time since using a 1040EZ to more significant ones, like being selected for the "Proper Walk Safari" and so far, raising $600. These are all things I talk through with my mentor.
Have you set goals in your meetings and how are you being held accountable for those goals?        
Lisa: Yes, two of my goals are significant and related — to earn my Certified Defense Financial Manager certification and complete the CEUs required to maintain my Project Management Professional cert. Jim and I do a weekly check in and progress toward these goals are one of the things we monitor. He doesn't hound me but does help to keep me honest and keep these things off the back burner.
Using JC's help what skills do you want to develop?     
Lisa: In a word, confidence — confidence in my speaking, writing, decision making, and interactions with clients, managers, and teammates.
What have you taken away from the Veteran Mentorship Program so far?           
Lisa: The biggest take away or benefit has been just having a steady sounding board and vector check. Particularly when dealing with interpersonal challenges, say with a client or teammate, it's been great to be able to run my thoughts past JC or enlist his help in understanding a situation better.
Now for some more details on our program itself:
Who is eligible to be a mentee?    
Existing or new veteran team members can apply to be mentees.
Where is the program offered?    
The program is offered in all of our locations. We will do our best to assign a mentor in your location so activities and events throughout the year can happen in person.
How are the mentors and mentees paired?        
Background information is gathered from both mentors and mentees through the application process. That information is evaluated by the Veteran Resource Group Leadership Team (VRGLT). The purpose of the evaluation is to ensure successful pairings based on criteria to include mentee goals, learning styles, location, and such. Please note that every mentee or volunteer mentor may not be matched if there is not a suitable counterpart.
What are the mentor qualifications?        
No prior mentor experience required; we will help facilitate the process and provide you resources as you may need for a successful mentee/mentor relationship. You must be a team member of AMSG for at least one year and have relative experience in transitioning from military to Veteran status. You need to be able to commit at least 1-3 hours per month.
What happens if there is not a match with a mentor in the program right away?            
That's okay! We want this to be a successful program for you. If the right mentor is not available, we will not force fit.
Written by: Sandy Magura