Advanced Management Strategies Group, Inc. (AMSG) announced today it is celebrating 15 years in business by rebranding the company. Following his first year as AMSG's President and CEO, Jim O'Farrell decided to reintroduce AMSG to the world with a new logo, messaging, and website.
AMSG began serving the federal government in 2008 with a single $50,000 contract, and two employees. Today AMSG employs over a hundred employees who support dozens of contracts with revenue surpassing $20 million. AMSG is a different company than when we began more than ten years ago, and we want to reflect that as we embark on the next 15 years and beyond.
In May 2022, we set out to discover what AMSG's new brand would look like. Partnering with T Square Design Studio, we participated in a discovery process that examined AMSG's identity, offerings, and company employee survey results. We examined our mission, our people, our history, and where we would like to go.
Some of our key findings were:
People are paramount
Uncompromising integrity
AMSGers go above and beyond
Core values: Courage, Compassion and Competence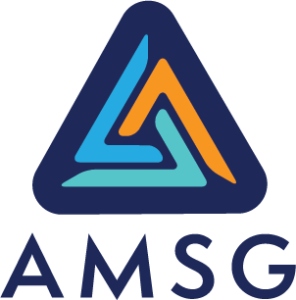 For the logo, we chose a triangle shape to symbolize collaboration and bright colors to catch the eye and represent diversity of our service offerings, our work force, and our customers. For our website, we chose a brighter, modern feel, with inclusive language for everyone from boomers to millennials/Gen Z, and military to civilians.
Further, AMSG's new tagline speaks to our rejuvenated focus:
Forging Solutions for the Missions that Matter
Relationships – Resolve – Results
AMSG is forging ahead to support the missions of our Federal Government that impact all of us.  We rely on our long-standing relationships but are also forming new ones – with our own employees, customers, and teammates. The definition of Resolve has three elements:  to "find a solution" – to "decide firmly on a course of action" – and "firm determination to do something." AMSG finds solutions with firm determination that get our customers the results they deserve.
Jim O'Farrell reflected on the rebrand, "I've been in the government contractor industry for nearly 30 years, and I've seen a lot of companies come and go. But AMSG is different. Our rebranding is not only the kick-off of another 15 years, but also part of the excitement that is building at AMSG. Recent significant contract wins at the Department of Energy and the Office of the Secretary of Defense, for example, are a key part of AMSG's Strategic Vision, and they are paving the way for significant growth at AMSG in the years ahead. But many companies win contracts, why is AMSG special? Our differentiator is the way we treat our people. We are compensating, training, and challenging our people like never before. We will be sending them on travel experiences this year to places like Kenya, Honduras, Poland, and Canada, where they will expand their horizons, and get comfortable with being uncomfortable – the place where personal growth occurs. Rebranding AMSG was a natural next step in our company's life cycle.  Working side by side with our customers, business partners, and stakeholders, now, and in the years ahead, to serve their missions, AMSG will continue building a legacy of service to our country and our communities. And we will do this with a laser focus on our Core Values of Competence, Courage, and Compassion" O'Farrell said in a statement, "From its founding, AMSG has always been, at its core, a team of people who want to be part of something bigger than themselves – whether at work, or in our communities."
AMSG also partnered with Kai Blakley and Devotee LLC to film a series of corporate videos to share with the world what makes AMSG special, and to share our company culture with existing customers, potential customers, and future employees. These videos emphasize our employee opinions on what it's like to work at AMSG and what makes AMSG different. Each of AMSG's videos can be found on our new website at https://amsgcorp.net and will also be shared on our social channels in the coming days.
AMSG is excited to launch the brand redesign this month. Customers and employees can still expect the innovative service we are known for, but now with a more modern look and feel. In the meantime, AMSG continues to focus on our people and use our core values – Competence, Courage, and Compassion – as our North Star to support our people and customers. After all, AMSG's brand is simply the sum of all the experiences people have with AMSG. Another way of putting it – our brand is what people say about us when we're not with them. Everyone at AMSG – from our CEO to the newest Team Member, knows that they have the ability to impact AMSG's brand every day.
Taken together, the new logo, tagline, website, and videos bring AMSG into the future. AMSG looks forward to the next 15 years and beyond.