AMSG Supports Bunker Labs
On September 14, 2022, Advanced Management Strategies Group (AMSG) furthered its commitment to our military Veteran community with a $10,000 donation to Bunker Labs.
Bunker Labs is a national not-for-profit organization that provides community, programs, and courses to help military Veterans and spouses start and grow successful businesses and startups. It is an essential ingredient for any experienced Veteran business leader hoping to expand an existing business and a crucial starting point for any budding military Veteran entrepreneur hoping to start a new enterprise.
With the rate of Veteran entrepreneurship plummeting in the 21st century, and lack of access to capital preventing Veterans from starting businesses, we recognize the influence Bunker Labs has had on AMSG and on our military Veteran entrepreneur community. Therefore, we are thrilled to support Bunker Labs through this donation to ensure its key programming continues and thrives.
As the leader of a Veteran-founded and Veteran-led business, having the support of an organization focused solely on Veteran entrepreneurship and our success, is more important than ever. We know our country's Veterans have the skills, discipline, and resilience to lead successful businesses. AMSG prides itself on our support of Veterans, service members, military family members, and caregivers. And given Bunker Lab's vision to, "create a future where military service is a leading pathway to successful business ownership and entrepreneurship", we are honored to provide funding that will assist the next military Veteran and military spouse-led businesses.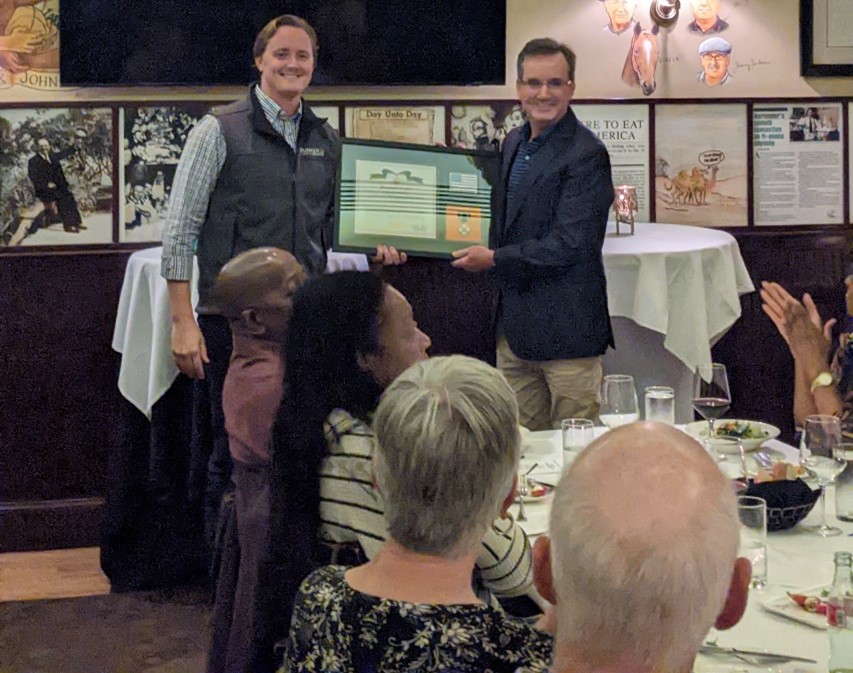 We welcomed Bunker Labs CEO Blake Hogan to AMSG's Leadership Retreat dinner in NYC where Mr. Hogan spoke about Bunker Lab's mission and shared inspiring thoughts about the future growth of AMSG. To recognize AMSG's commitment to service, he also presented AMSG's President & CEO Jim O'Farrell with the Bunker Labs Meritorious Service Medal.
Jim O'Farrell, AMSG's President & CEO said the following, "It has been an honor to be a part of Bunker Labs' CEOcircle. As I near the end of this year-long cohort and reflect on my experience, it is hard to express how vital this program has been to my journey as the CEO of Advanced Management Strategies Group, Inc. (AMSG). Bunker Labs' CEOcircle has provided invaluable tools, resources, and a community of Veteran entrepreneurs for tackling everyday business challenges and developing strategic plans for growth. By soaking up the wisdom of the incredible guest speakers, and sharing with and learning from fellow cohort members, your CEOcircle programming has had a profound impact on me."
About AMSG: AMSG is a Department of Veterans Affairs (VA) verified Service-Disabled, Veteran-Owned, Small Business with substantial relevant Program/Project Management, Knowledge Management, Acquisition Management, Capability Development, Business Process Improvement, and administrative support experience. Founded in 2008 and headquartered in Dumfries, Virginia, with numerous satellite work locations across the country, AMSG directly supports the missions of Department of Defense, Department of Veterans Affairs, Department of Homeland Security, Defense Health Agency, Department of the Treasury, and Federal Trade Commission program. Our core capabilities are provided by AMSG employees, who have deep subject matter expertise, proven experience, and a desire to bring innovative and unique solutions to complex problems. In supporting federal government agencies, we develop business processes and facilitate mission requirements, helping to guide, organize and develop technology and infrastructure support and enhance business relationships. Learn more at amsgcorp.net.
About Bunker Labs:  Bunker Labs provides community, programs, and courses to help military Veterans and military spouses start and grow successful businesses and startups. Bunker Labs runs the CEOCircle program. CEOcircle is a monthly peer accountability group for growth-stage companies looking to scale. Over the course of nine virtual huddles and four in person fly-in events, CEOs and executives can ask critical questions impacting their businesses today. Together, you'll learn from your peers and national experts alike how to take your company to the next level. Additionally, CEOcircle members also gain access to dedicated liaisons and a 10-week advisor program powered by JPMorgan Chase.