This has been a busy summer for the AMSG interns! From a service day at Arcadia Farm for team building and volunteering, to lunch with the CEO to discuss AMSG's core values, they've been working hard to grow both professionally and personally. Two of them returned to us this year; Zachary Taylor joined us for his third year, and Juliana Hinson returned for her second year. They also had a little fun by keeping up a fun sock trend up around the office.
Here's a little more from our interns, in their own words: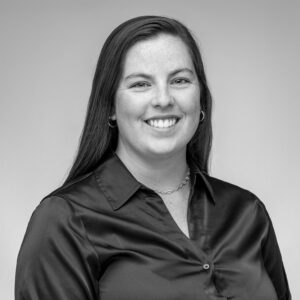 Sarah Cannon:
I am currently studying marketing at George Mason University. I came to AMSG looking for an internship that would push my thinking outside of the box. I wanted to try new experiences that would sharpen my knowledge of marketing. AMSG has given me the opportunity to practice what I've learned in school by creating social media posts, planning events, creating brand awareness ads, and much more. My future plans include continuing my internship with AMSG this fall, graduating in December, and working hard to become a marketing manager for an amazing company!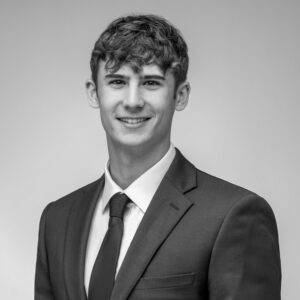 Mason Scofield:
I am studying computer science at James Madison University. At AMSG, I am learning the proposal process and how a professional office workplace functions. The environment at AMSG has been extremely welcoming. The culture nurtures team building, hard work, and achieving goals together. I have only been a part of the team for a few months, but everyone has been kind and open in sharing their knowledge. I am very appreciative of the company's drive to help accelerate our professional life and personal growth. One of the projects I am working on for AMSG is research on how GPT's AI technology can be leveraged to increase productivity in writing proposals. In the future, I plan on joining the Marine Corps as a Reservist and becoming a programmer after college.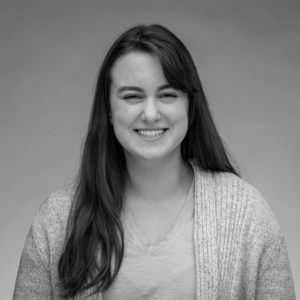 Juliana Hinson:
I have been a graphics artist intern here at AMSG since May 2022. Currently, I am a student at VCU, studying to earn a bachelor's in kinetic imaging. Originally, I was not yearning or anticipating interning for a government contracting company, but I am so glad I took the opportunity. While interning here I learned the importance of communication and building good work relationships, as well as simply how a government contracting company works. The types of assignments I typically receive are logo designing, slide organization, photo editing, and video editing. As of now, the interns and I are working on a group video project. What I appreciate most about AMSG is the kindness, generosity, and thoughtfulness displayed from people around me whether in person or online. That alone has kept me wanting to continue to intern at AMSG. Although at first this was not my ideal internship, I am most grateful for the skills and experience I never thought I would have learned had I not taken the opportunity to be here.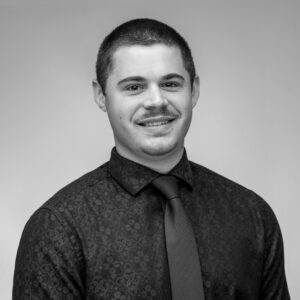 Ethan Taylor:
I am the operations intern here at AMSG. I am going to school at George Mason University, and I am studying business analytics. I chose to intern at AMSG, because I am intrigued by the company missions. I am currently assisting our Human Resources, contracts, and finance departments, along with a little help to the business development departments. My main goal is to wrap up my degree as I have two classes left! One thing to mention is the overwhelming support, assistance, and guidance I have received from all my superiors. The culture and connection here is something I will never forget; not to mention the great memories with all the interns as well! It is a wonderful feeling having these people to call co-workers and friends.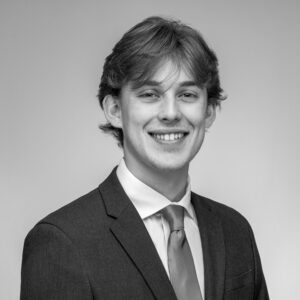 Zachary Taylor:
I am a Business major at Bridgewater College, and this is my third year working as an intern at AMSG. I got lucky with an opportunity to work at AMSG, and I haven't looked back since. At the corporate office I work with the Business Development team providing any assistance I can in all phases of the proposal development process from BD research, to capture, to final submission of proposals. As an intern in the prop shop, I was made a part of the family immediately, and I love the camaraderie. The culture at AMSG is all about love and compassion and I believe that has made my experience here much more rewarding and influential. I have learned and retained more information because my coworkers have taken the time to be patient, kind, and thorough in my on-the-job training.
I'm also amazed at the resources available to me as an AMSG employee, in terms of training in Insperity, and the openness of management to include me in formal training. I've already successfully completed a George Mason University "Price to Win" training and sat in on several Prop Shop Shipley training classes. Every opportunity has been made accessible to me, no holds barred. This year, I worked with other interns, and was able to show them the ropes to some degree, and with the exceptionally busy season that the prop shop is having this summer, I believe we've added value.
Recently I also had the pleasure of joining the AMSG international philanthropy team on our trek to Kenya, Africa. This journey was a once-in-a-lifetime experience that made such a large impact on my life, and I can't thank AMSG enough from the bottom of my heart. By being put in a position to truly help the African children of the Makindu Children's Centre, I feel my life was enhanced considerably, and I'm super grateful. This fulfilling work is something that wouldn't have been possible without CEO Jim O'Farrell and his kind soul. All in all, this company has given me more than I can return, and I hope to continue working here until I can repay the debt I owe.
From team building, professional growth, and making an impact, the interns have had a big year. We're proud of them and grateful for their energy, dedication, and enthusiasm.
AMSG CEO Jim O'Farrell said, "As someone whose summer "internships" were spent on US Navy warships projecting power in the Pacific and Mediterranean, as a midshipman at the United States Naval Academy, I have always appreciated young people who are furthering themselves in an office or a restaurant."
Thanks for a great summer, Team AMSG wishes all of you well and thanks you for your hard work this summer!
By: Sheila Rupp, AMSGazette Contributor and Editor