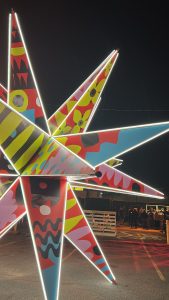 Since its inception 20 years ago, Adobe MAX has been the premier creativity conference for innovative professionals worldwide. Each year, the event brings together thousands of designers, artists, illustrators, photographers, video editors, marketing executives, and other creative visionaries to showcase the latest advancements in design, technology, and digital art.
From inspiring keynote speeches to hands-on workshops, Adobe MAX offers immersive experiences, interactive installations, and a multitude of opportunities to learn and connect with fellow creatives. This year, AMSG sent some of our team's most talented creatives to attend the multiday event.
Set in the heart of L.A., the Peacock Theater and the Los Angeles Convention Center (LACC) played the backdrop to Adobe MAX 2023, offering a sprawling canvas for our team and other creatives to learn, explore, and interact.
Day one set the tone, opening with a keynote speech from Adobe's CEO Shantanu Narayen, followed by demos of Adobe Creative Cloud's latest products, features, and innovations from Adobe's engineers and design evangelists. The splashiest innovative technology making headway: Artificial Intelligence (AI). AI has been integrated into Adobe's creative suite of tools to help creatives work smarter and more efficiently, and to assist with generating new ideas.
Day two boasted even more inspiration, featuring inspiring stories from renowned industry leaders, including Creative Director Karen X Cheng; songwriter and record producer Oak Felder; graphic designer and founder of Draplin Design Co. Aaron Draplin; and Creative Director and co-founder of Walker Noble Studios Walker Noble Studios Walker Noble. Bringing their energy and unique stories to the stage, each speaker served as a source of inspiration, encouraging attendees to push the boundaries of their creativity and explore new horizons in their respective fields.
Their overall messages: creatives can "make it" in the world as artists, sometimes it's necessary to take risks in order to move forward, it's okay to pause from social media's hamster wheel, and as creatives, we must remember, the work we create has the proclivity to impact the world. "There is, in this room, such a potential for creativity. So much skill and so much talent," said Felder. "We all have the ability to change a person's life with some of the things we create … so you gotta remember to do one thing. When the universe does you a solid and gives you something in the moment that you need it, it is your duty to pay it forward to the next person."
Post keynotes, attendees filed out of the theater on a creative high, dispersing to Adobe's starred Creative Park, and over 400 labs, workshops, and luminary sessions to network and learn new tips for using Adobe's latest products. Here are the highlights from Adobe MAX 2023:
Hands-On Learning: Over 400 labs, workshops, sessions, photowalks, and creative luminaries were offered, covering illustration, videography, photography, graphic design, UI/UX design, 3D art, augmented reality, and social media topics. Led by innovators, industry experts, and Adobe master instructors, these experiences provided advice, hands-on training, and more opportunities to network.
Creative Park: Featuring sponsors and giveaways, DJs and food stations, labs and theater sessions, the Creative Park was the place to be after hours and in between workshops. Attendees sampled new products and gadgets and learned more about Adobe's latest features and design tools.
MAX Sneaks: The must-attend event of the conference, Adobe's top engineers showcased new features and products currently under development during Sneaks – features that may (or may not) roll out in the coming years.
MAX Bash: Creatives coalesced to unwind, dance, and socialize, to celebrate MAX and to enjoy food, live entertainment, and interactive art experiences. This year's Bash featured DJ and rapper Rev Run.
"Adobe MAX offered a unique platform to connect with professionals from various industries, enabling me to establish meaningful connections, exchange ideas, and potentially collaborate with like-minded individuals and organizations in the future," said AMSG Content Manager Dock Coleman.
Essential for anyone passionate about digital and creative arts, Adobe MAX is the annual must-attend event. Because of Adobe's commitment to push the boundaries of digital creativity, the conference offers a unique blend of innovation, inspiration, learning, and networking. More than just an event unveiling the latest Adobe products, it serves as a hub for the global creative community to come together, learn from one another, and foster collaboration. Whether you're a designer, illustrator, photographer, or any other creative, Adobe MAX provides a dynamic space to explore and celebrate the art of digital creativity.
Written by: Juania Owens, Investment Analyst Lead